A flange seal is a type of O-ring seal that uses a specific installation position. In contrast to rod seals, the sealing element is pressed in an axial direction so that the two sealing surfaces are sealed against each other. 
This type of installation is mainly used in stationary, rigidly bolted seals. With the flange gasket, the installation groove for the O-ring is usually produced by axial grooving.
#1

Definition of flange gaskets
Flange gaskets are pressed axially by screwing a cover rigidly to the flange. With continuous connections between two pipes, two flanges can also be tightly joined together. Flange gaskets are non-moving (static) gaskets.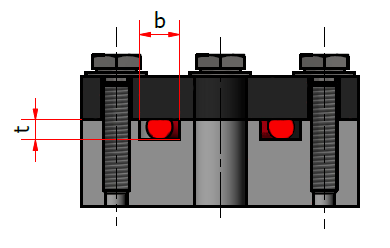 #2

Application of flange gaskets
Flange gaskets are mainly used in pipeline construction, where they come into contact with numerous different media. Flange gaskets often seal the inside of a technical system against the environment. Depending on the operating conditions, they can be exposed to pressure from outside or inside. Changing pressure conditions represent a particular mechanical stress.
DO YOU HAVE ANY QUESTIONS?
THEN PLEASE WRITE TO US!