CR O-RINGS |

MATERIALS SIMPLY EXPLAINED
Chloroprene rubber (CR) is a widely used synthetic rubber that can look back on a long history of industrial use.
Hoses, conveyor belts and window profiles are just a few examples of CR-based products.
This already indicates an important advantage of CR for sealing technology: O-rings made from this material are particularly attractive in terms of cost.
If CR O-rings are used according to their suitability profile, they are an extremely economical alternative for seals of all kinds in the industrial sector.
One of the main areas of application is refrigeration technology. As CR is resistant to chemicals such as ammonia and many coolants, the material is ideal for permanent seals in process cooling systems or air conditioning systems.
The high cold flexibility of CR ensures permanently tight connections between the system components. Overall, the media resistance of CR can be compared with NBR.
In direct comparison, CR O-rings only have slight weaknesses in the area of acids and alkalis. Application experts also know CR O-rings under the common trade names Neoprene® or Baypren®.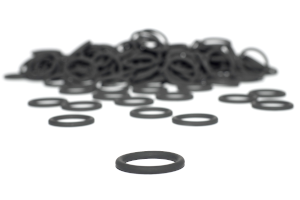 | Feature | Value |
| --- | --- |
| ISO designation | CR |
| Trade names | Neoprene |
| Chemical name | Chloroprene rubber |
| Media resistance | Medium media resistance |
| Temperature resistance | -40°C to +100°C |
| Standard color | Black |
| Standard hardness | 70 Shore A |
| Industries | Air conditioning and refrigeration technology, shipping |
| Production | Compression molding and injection molding |
| Tolerances | DIN ISO 3601 |
| Durability | 6 years |
REQUEST CR O-RINGS QUICKLY AND EASILY?
Almost any dimension available
Over 10,000 FKM dimensions available from stock
Offer received in record time
No minimum order values or minimum quantities
#1

The 5 most important advantages of CR O-rings

1. Thermally insulating
2. Good abrasion resistance
3. Very good ageing resistance
4. Suitable for dynamic sealing
5. Good resistance to many refrigerants
The main advantages of CR O-rings are their excellent suitability for use in refrigeration and air conditioning systems.
The thermally insulating effect of the material ensures low energy losses at the joints between system components. This property also ensures that the desired temperature gradient is maintained when sealing technical systems against the environment.
Together with the almost universal resistance to many refrigerants, this makes CR O-rings ideal for use in numerous technical devices.
The long-term durability of seals also plays a major role when they are used in industrial production systems or products for end consumers.
Premature leaks can ultimately lead to cost-intensive machine downtimes or high warranty costs. However, CR O-rings are particularly unproblematic in this respect.
With good abrasion resistance and insensitivity to ageing mechanisms in contact with the environment, the sealing material enables very reliable seals.
Unlike some alternative O-ring materials, this also applies to use on moving seals.
A comparison of the most important O-ring materials
| Material | Temperature resistance | Chemical resistance | Elasticity |
| --- | --- | --- | --- |
| NBR | -30°C to +120°C | Low | High |
| HNBR | -30°C to +150°C | Medium | High |
| EPDM | -45°C to +150°C | Medium | High |
| SILICONE | -60°C to +200°C | Low | High |
| FKM (VITON) | -25°C to +200°C | Medium | High |
| FEP coated | -60°C to +200°C | High | Medium |
| PTFE | -250°C to +250°C | High | Low |
| FFKM | -40°C to +340°C | High | High |
#2

The 3 most common areas of application for CR O-rings
Shipping is a particularly important application.
Thanks to their insensitivity to seawater, CR O-rings can be used in this environment without any problems.
Good mechanical properties and resistance to numerous chemicals open up many possible applications for CR O-rings in marine vessels.
Despite the focus on air conditioning and refrigeration technology, CR O-rings are not limited to this application.
The material can also be used for many other sealing applications within the limits of media resistance and temperature suitability.
The applicability of CR sealing elements benefits above all from their attractive price level and suitability for outdoor use.
CLIma and refrigeration technology
CR O-rings are used in large quantities for applications in air conditioning and refrigeration technology.
CR is suitable for contact with common coolants such as Freon® and ammonia. Sealing elements made of CR also have good resistance to ageing, ozone and many other chemicals.
Even if CR O-rings come into contact with other media, they can therefore reliably seal coolant-carrying systems in the long term. This applies not only to stationary appliances used in industry or private households, for example.
Thanks to their insensitivity to the weather, CR O-rings are also ideal for automotive air conditioning systems.
#3

What is the media resistance of CR O-rings?
CR O-rings are resistant to:
Paraffinic mineral oils with a low elastomer compatibility index (EVI)
Silicone oils and greases
Water and aqueous solutions (within the specific temperature limits)
Refrigerant
Ozone, weathering and ageing
CR O-rings are not resistant to:
Low-molecular aliphatic hydrocarbons such as propane and gasoline
Naphthenic mineral oils for lubrication
Brake fluids based on glycol
Polar solvents (ketones, esters, ethers, acetone)
With an otherwise comparable resistance profile, CR O-rings have an advantage over their counterparts made of NBR CR retains its material properties significantly longer when exposed to ozone and weathering.
In addition to many standard qualities, CR O-rings are also available in special versions. Users with special requirements can obtain CR O-rings in qualities with increased fungal resistance, for example.
These prevent the material from being attacked by microorganisms in contact with water.
#4

What is the temperature resistance of CR O-rings?
The temperature range of CR extends from -40 degrees to +100 degrees .
This general information refers to the use of standard qualities and excludes contact with aggressive media.
In specific applications, CR O-rings can therefore have significantly different upper and lower continuous temperature limits. For example, the O-rings should not be used in contact with air at temperatures above 90 degrees.
If the system to be sealed carries water at a temperature of over 80 degrees, an alternative sealing material should be used.
For special applications, it is also possible to use special CR mixtures. For example, maximum continuous temperatures of up to 120 degrees can be covered with CR O-rings.
In the low-temperature range, the cold resistance of CR is comparable to that of EPDM and NBR.
HNBR and FKM achieve similarly good low-temperature properties in special grades. However, the silicone materials VMQ and FVMQ are much more suitable for very low temperature ranges.
CR is often compared with NBR in terms of its properties, but is more suitable for low-temperature applications.
#5

What are the mechanical properties of CR O-rings?
1. Good abrasion resistance
2. Suitability for dynamic sealing
3. Antistatic properties
Thanks to their good abrasion resistance, CR O-rings are not only suitable for stationary seals such as pipe connections or inspection openings.
These O-rings can also be used to permanently seal moving components against each other or against the environment. In both cases, the good abrasion resistance has a positive effect.
Friction occurs when changing pressure conditions cause the O-ring to move in the groove or when machine parts move. Both hardly lead to any material loss with CR O-rings.
Particles released from the surface would impair the sealing effect on the one hand and could contaminate system components on the other. CR O-rings achieve similarly good abrasion resistance values as HNBR, NBR, EPDM or FKM.
CR also has antistatic properties, which are necessary for some applications. In medical technology, for example, there is a requirement that seals must not become electrostatically charged.
#6

What do I have to consider when designing the groove of a CR O-ring?
Groove design of CR O-rings
Compression in the groove should be approx. 20% for static use
Select lower compression for dynamic sealing
20% of the groove should still be free after grouting
Always design grooves according to the standard tables available on the market
Permanent elongation after installation should be less than 6%
Permanent compression after installation should be less than 6%
Fitting CR O-rings
Clean the groove space thoroughly before installation
Do not expand elastic O-rings by more than 50% during installation
Provide insertion slopes between 15 and 20 degrees
Deburr drill holes, even if they are only passed over during assembly
Round off sharp edges with a minimum radius of 0.1 to 0.3 mm
Use silicone grease to make assembly easier
Avoid twisting the O-ring
#7

Further important information on CR O-rings
Finally, we would like to answer a few questions that we are frequently asked in everyday life.
#7.1

What is the CR material made of?
CR stands for chloroprene rubber and is a synthetic rubber.
Due to its excellent abrasion properties, CR is often used in transportation. In addition, CR can also be used in a variety of outdoor applications thanks to its good ageing resistance.
#7.2

Is there a data sheet for the CR O-rings?
You can easily view the data sheet for our CR O-rings directly on our website and download it if you wish.
#7.3

What is the CR consistency?
In principle, CR O-rings are permanently resistant from -40°C to +100°C.
It is important to note that the temperature resistance only applies to the medium "air".
In addition, CR O-rings have excellent media resistance to various refrigerants such as "Freon".
"I am convinced that we should share our knowledge with the world. I hope I have been able to answer all your questions. If you have any further questions, please feel free to contact us at any time. We will be happy to help you."
Do you have any questions on this topic? Then please contact us!