#1

What is gap extrusion?
Gap extrusion is a very interesting topic and is often the reason for the failure of an O-ring.
If an O-ring presses into the sealing gap, parts of the O-ring may be sheared off. In most cases, the main reason for gap extrusion is the incorrect design of the O-ring.
The 3 most important causes of gap extrusion
1. High system pressure
2. Overfilling of the groove 
3. O-ring too soft (low shore hardness)
The damage pattern of gap extrusion is quite easy to recognize compared to other damage patterns. (See picture)
The result of gap extrusion is that whole pieces are "cut" from the O-ring. The feel and material properties therefore remain unchanged.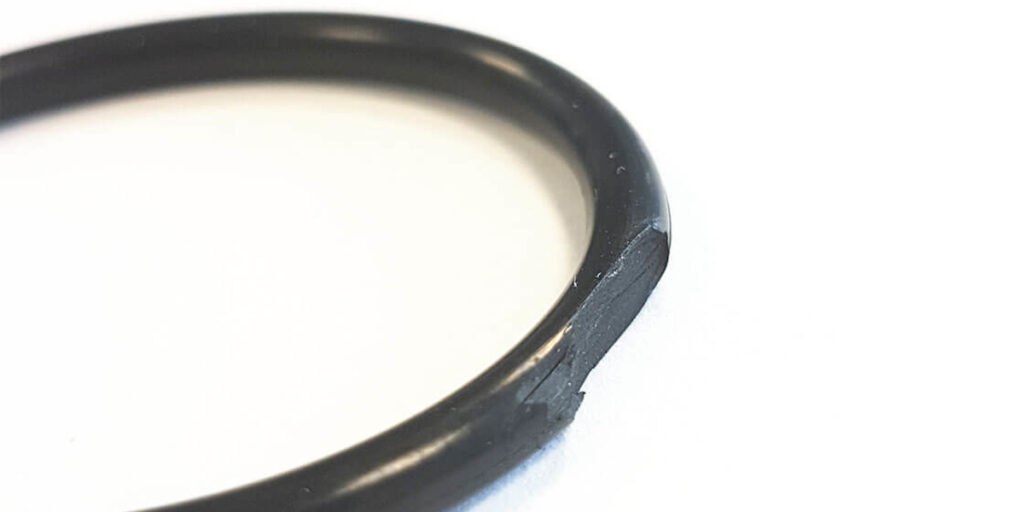 #2

How can I avoid gap extrusion?
1 . The higher the system pressure, the harder the O-ring should be (e.g. 90 Shore A)
2. Support rings should be used if the pressure is too high
3. The sealing gap must be kept as small as possible
4. The groove filling should not be higher than 85% after grouting
If you would like to find out more about the topic of "gap extrusion", I recommend our detailed technical article from our Gasket Academy.
Avoiding gap extrusion in O-rings | Sealing Academy | Click here >>
DO YOU HAVE ANY QUESTIONS?
THEN PLEASE WRITE TO US!