ACM O-RINGS |

MATERIALS SIMPLY EXPLAINED
ACM (polyacrylate rubber) stands out from the mass of sealing materials with one property in particular: O-rings and other sealing elements made from this material are resistant to the media attack of mineral oils, even at high temperatures of up to 150 degrees.
This makes the material interesting for use in the automotive sector, among others. This is where highly additive lubricants meet high temperatures in the drivetrain of conventionally powered vehicles.
This applies above all to engines and transmissions, where polyacrylate is not only used as a molded part to seal expansion tanks, covers or lines. The material is also used in this area as a liquid sealant for machine application.
Polyacrylate is also attractive for mass use because the price level is significantly lower than that of HNBR and FKM is also attractive.
O-rings made of polyacrylate are given the abbreviation ACM in accordance with ISO 1629. The nomenclature according to ASTM D 1418 does not deviate from this either. Users are also often familiar with the trade names of major manufacturers of ACM O-rings.
These include HyTemp®, Noxtite® and Hycar®.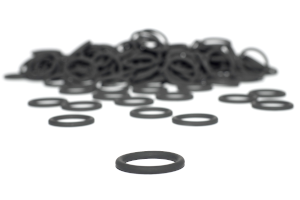 | Feature | Value |
| --- | --- |
| ISO designation | ACM |
| Trade names | HyTemp®, Noxtite® and Hycar®. |
| Chemical name | Acrylic rubber |
| Media resistance | Good media resistance |
| Temperature resistance | -20°C to +150°C |
| Standard color | Black |
| Standard hardness | 70 Shore A |
| Industries | Automotive industry |
| Production | Compression molding and injection molding |
| Tolerances | DIN ISO 3601 |
| Durability | 10 years |
REQUEST ACM O-RINGS QUICKLY AND EASILY?
Almost any dimension available
Over 10,000 FKM dimensions available from stock
Offer received in record time
No minimum order values or minimum quantities
#1

The 5 most important advantages of ACM O-rings

1. Very good resistance to ozone and hot air
2. Inexpensive sealing material
3. Very good suitability for outdoor use
4. Resistant to hot heating oil and lubricating oil
5. Low gas permeability
Automotive engineering is the dominant field of application for ACM O-rings. In this area, the gasket material benefits from its most important advantages: Resistance to hot lubricating oils and insensitivity to weather influences.
Oils in contact with rubber can lead to changes in the material properties. This must be prevented as far as possible in order to maintain the sealing effect of O-rings in the long term.
ACM O-rings exhibit very good swelling behavior in oil. With less suitable materials, however, the medium penetrates the gasket material and causes an increase in volume.
As a result, the material cohesion of the seal may be affected. This leads to softening, which makes the sealing element more sensitive to pressure in particular.
At the same time, the increased volume in the case of dynamic seals results in increased friction.
The durability of sealing with ACM O-rings is also due to their insensitivity to weathering and ageing. Hot ambient air, humidity or ozone sources can hardly affect the sealing properties of ACM.
A comparison of the most important O-ring materials
| Material | Temperature resistance | Chemical resistance | Elasticity |
| --- | --- | --- | --- |
| NBR | -30°C to +120°C | Low | High |
| HNBR | -30°C to +150°C | Medium | High |
| EPDM | -45°C to +150°C | Medium | High |
| SILICONE | -60°C to +200°C | Low | High |
| FKM (VITON) | -25°C to +200°C | Medium | High |
| FEP coated | -60°C to +200°C | High | Medium |
| PTFE | -250°C to +250°C | High | Low |
| FFKM | -40°C to +340°C | High | High |
#2

The 3 most common areas of application for ACM O-rings
Internal combustion engines
SAE engine oils are used for the lubrication of combustion engines.
O-rings made of ACM are used in these systems to seal the oil filter, for example. Depending on the operating time and load, the sealing elements come into contact with temperatures between -40 and +150 degrees.
ACM O-rings have the necessary low-temperature flexibility and heat resistance to maintain the sealing effect over this wide temperature range. However, ACM is not alone in this: NBR, HNBR and FKM are also suitable for this application.
FKM has even higher maximum continuous temperatures.
Temporary maximum temperatures of up to 150 degrees can be expected in automotive gearboxes.
In contrast, the continuous operating temperature is in the region of 90 degrees. Lubrication is provided by so-called ATF oil (Automatic Transmission Fluid). ACM O-rings are a very good fit for the medium and temperature range.
Even the numerous additives in modern ATF oils do not reduce the durability of seals made from ACM.
Operating conditions in the power steering unit are similar to those in automatic transmissions.
The maximum temperature peaks here are also 150 degrees. ATF oils are sometimes used here as hydraulic fluids.
As with the other applications, ACM O-rings are replaced by their FKM or HNBR counterparts when particularly high temperatures are expected.
AEM (ethylene acrylate rubber) should not be confused with ACM. This is a material that is similar to ACM in many properties and is also widely used in the automotive sector.
AEM differs from ACM in its better heat resistance. At the same time, the lower mineral oil resistance of AEM is a disadvantage in comparison.
The material is primarily used for the production of hose applications, seals for engines and transmissions as well as components for turbochargers.
#3

What is the media resistance of ACM O-rings?
Unlike FKM or HNBR, for example, ACM does not have a particularly comprehensive resistance profile. O-rings made of ACM are therefore less universally applicable, but rather limited to special areas of application.
However, ACM O-rings perform very well in contact with mineral oil-based products for lubrication or hydraulics. This is particularly true in view of the good cost-effectiveness of the gasket material.
ACM is resistant to:
Highly additive lubricating oils
Ozone, weather and hot air
Mineral oils
ACM is not resistant to:
Hot water
Steam
Fuels
Polar solvents such as acetone
Aromatic hydrocarbons
Glycol-based brake fluids
Acid, alkalis
Amines
Hydraulic fluids (HFA, HFB, HFC, HFD)
In terms of media resistance, the swelling behavior of ACM O-rings in mineral oils is particularly noteworthy.
The medium can not only cause other sealing materials to swell – with the loss of elastic properties and increased friction as a result.
Less resistant materials than ACM also lose their sealing properties because mineral oil-based media dissolve compound components out of the material.
ACM, on the other hand, shows very good swelling behavior, so that the elastic and other mechanical properties remain permanently stable.
#4

What is the temperature resistance of ACM O-rings?
Data sheets for ACM standard grades indicate a general temperature range of -20 to +150 degrees .
This is the maximum permissible continuous temperature in each case. Short-term temperature peaks of up to 150 degrees are possible in the area of the upper application limit.
The service life of ACM O-rings suffers greatly as a result, so a different O-ring material should be used.
The temperature range of ACM is similar to EPDM, although the low-temperature suitability of ACM is less pronounced.
At very low temperatures, ACM O-rings lose their flexibility more quickly so that they can no longer reliably cover a changing sealing gap.
This makes it easier for leaks to occur if the pressure conditions change or if the system components are hit from outside.
When it comes to heat resistance, there are clearly superior materials, including VMQ, FVMQ, FKM and FFKM. They retain a low compression set even at temperatures above 150 degrees.
However, ACM O-rings offer good application possibilities up to a maximum temperature of 150 degrees in the relevant application area of air and mineral oil-based lubricants. However, the material is not resistant to hot water or steam.
In the meantime, the market offers so-called HT-ACM O-rings. They cover an extended temperature range and work reliably up to the limits of -40 or +185 degrees.
#5

What are the mechanical properties of ACM O-rings?
Suitability for static and dynamic use
Medium strength
Low elasticity
Good mechanical load capacity
Poor dry-running properties
ACM is generally suitable for both stationary and moving seals.
ACM O-rings owe their dynamic application possibilities primarily to their good swelling behavior and physical properties.
Because the material hardly changes in volume during use, the friction ratios remain constant over long periods of use. At the same time, however, the low abrasion resistance has a limiting effect, so that dry running should be avoided.
When selecting suitable lubricants, attention must again be paid to media compatibility.
#6

What do I have to consider when designing the groove of an ACM O-ring?
Groove design of ACM O-rings
Compression in the groove should be approx. 20% for static use
Select lower compression for dynamic sealing
20% of the groove should still be free after grouting
Always design grooves according to the standard tables available on the market
Permanent elongation after installation should be less than 6%
Permanent compression after installation should be less than 6%
Clean the groove space thoroughly before installation
Do not expand elastic O-rings by more than 50% during installation
Provide insertion slopes between 15 and 20 degrees
Deburr drill holes, even if they are only passed over during assembly
Round off sharp edges with a minimum radius of 0.1 to 0.3 mm
Use suitable lubricants to make assembly easier
Avoid twisting the O-ring
#7

Further important information on ACM O-rings
Finally, we would like to answer a few questions that we are frequently asked in everyday life.
#7.1

What is the ACM material made of?
ACM stands for polyacrylate. In the field of O-rings, ACM is used almost exclusively for the automotive industry.
Overall, ACM is rarely used, as FKM is the better choice in most cases and can withstand higher temperatures.
#7.2

Is there a data sheet for the ACM O-rings?
You can easily view the data sheet for our CR O-rings directly on our website and download it if you wish.
"I am convinced that we should share our knowledge with the world. I hope I have been able to answer all your questions. If you have any further questions, please feel free to contact us at any time. We will be happy to help you."
Do you have any questions on this topic? Then please contact us!